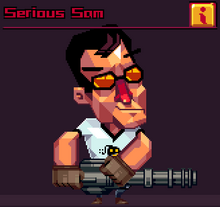 Sam "Serious" Stone, better known as Serious Sam, is an unlockable character. He was added to the game on 11-11-2016. Like Lo Wang, he is a guest character, but he hails from the Serious Sam series. To unlock him, you must do substantial damage (30+?) is a single blow in multiplayer. In older versions of the game, you had to win 3 multiplayer games, but this was changed as the developers thought it was too easy to unlock him.
Sam is a serious tourist. When you were sitting cosily in front of the screen, he was exploring Egypt, Teotihuacan, Persia, Pompeii and... planet Sirius, why wouldn't he. During each of his voyages he always put an effort to get to know the inhabitants. He'd meet his large and diversified groups in the vast and beautiful locations, where they could exchange their views of life and...death. This is probably how Sam became such an erudite... No, of course we're not serious.
Weakness
Edit
Serious Sam is sensitive to phrases that make fun of serious topics, such as:
The communists
The Meaning of Life
The Nazis
The Queen
The Royal Family
[Is/Are] deceased
[Is/Are] racist
[Has/Have] bum cancer
Make(s) fun of the Pope
Need(s) a liver transplant
Tell(s) dirty jokes at funerals
And that's racist!
Unique insults
Edit
An alien hamburger
Can lick my lead
[Is/Are] afraid of my minigun
[Is/Are] not Serious
[Was/Were] owned by
[Was/Were] teabagged by
And I'm Serious!
Now put a sock in it!
Oh God, who writes this stuff?!
Yeah baby!
Serious Sam is weak to "serious things", despite his catchphrase being "Lets get serious".
However, he isn't weak to his ending phrase "and I'm serious!".
Sam's ending phrase "oh God, who writes this stuff?!" refers to the potentially outlandish insults that can be crafted in the game.